Gifs are fun, but I had so much trouble just getting a good export :/
A long time ago I used to use a program called Animagic for making gif files (digmon blinks and stuff, ahah), it was excellent, but it's not really anywhere online anymore.
Photoshop can't get an accurate frame rate, and even then I was still having trouble with it for some reason.
I ended up having to do it in Flash, but I couldn't really change the quality much. Oh well.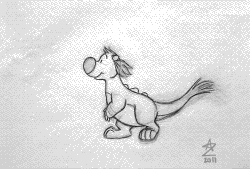 I'm glad I did this walk though, I've noticed a lot of mistakes and there was a lot of trial and error with the tail, but I think it'll help the next time around I do one. Would love to do a run of this guy, but I gotta start on a dialogue test.